Kayak Motor Mount
Cruise into your next kayaking adventure with the RAILBLAZA Kayak Motor Mount. Installing your trolling motor is a breeze – it takes just seconds to transform your paddle-only kayak into a boat ready for motor navigation. Plus, customise your setup with rod holders, lights, and camera mounts for any outdoor excursion.
Find A Store

Kayak Motor Mount
Product Specifications
The RAILBLAZA Universal Kayak Motor Mount Bracket combines the flexibility of RAILBLAZA mounts with some clever design, delivering a secure mounting bracket for electric outboards.

Super easy to clip on and off, your kayak can change from paddle only, to motor ready in under 30 seconds.
This bracket will fit almost all models of kayak, and is suitable for, but not limited to, the following motor up to 16kgs of thrust:
Minn Kota, all transom mount models
MotorGuide, all transom mount models
Water Snake, all transom mount models
For added versatility you can add a RailMount 32-41 or two (not included) to add rod holders, lights or camera mounts just behind the cockpit.
Supplied complete with 2 StarPort HDs and all mounting fasteners, this is the simplest way to attach a trolling motor to your kayak.
NOTE: We strongly recommend that you tether the motor to the kayak while in use. Loss of motors while using the RAILBLAZA Kayak Motor Mount is not covered by warranty. Not suitable for gas powered motors.
Features:
Simplest way to attach a trolling motor to your kayak
Includes all necessary hardware
Quick transition from paddle only to motor ready
Able to add RailMount 32-41s to the mount tube for added customisation
Parts Included:
1 x Kayak Motor Mount Bracket
2 x RailMount 32-41
2 x Male-to-male adaptors
2 x StarPort HDStainless Steel Hardware
Weight
2040gm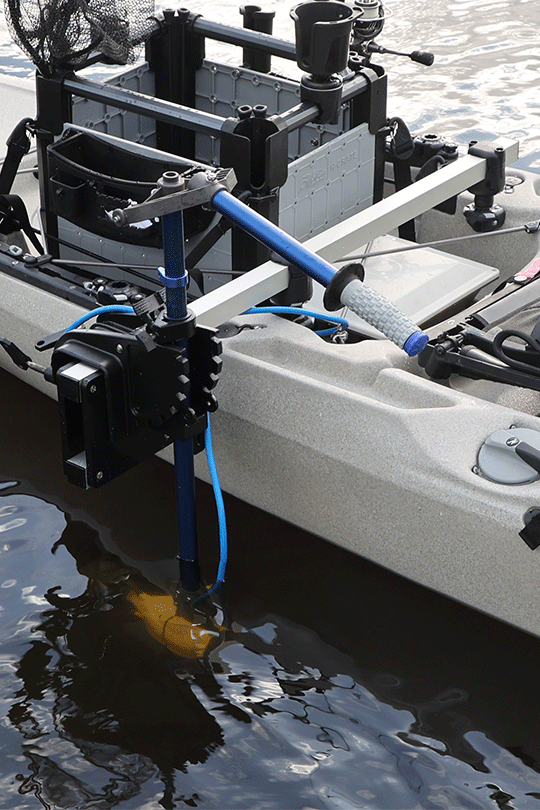 Kayak Motor Mount Overview
MAKE YOUR KAYAKING EXPERIENCE EVEN BETTER - The RAILBLAZA Kayak Motor Mount lets you add a trolling motor to your kayak quickly and easily, transforming it into a motorised vessel that can take you wherever you want to go.
SIMPLE INSTALLATION - No tools required - just clip the mount onto your kayak and attach your trolling motor. It takes less than thirty seconds to get set up and ready to go.
CUSTOMISABLE - Add rod holders, lights, or camera mounts with the RailMount 32-41 accessory (sold separately). This fast and simple solution from RAILBLAZA gives you the flexibility to customise your kayaking experience however you want.
EASY TO USE - The RAILBLAZA Kayak Motor Mount is easy to operate, even for beginners. With just a few simple steps, you'll be on your way to an adventure-filled day on the water.