Dive And Gas Bottle Holder
Ready to take your boat organisation and safety to the next level? Look no further than RailBlaza's Dive & Gas Bottle Holder. It's strong, versatile and designed to keep your propane tanks, dive tanks, gas cans and water cans safe and secure during all your boating adventures.
Find A Store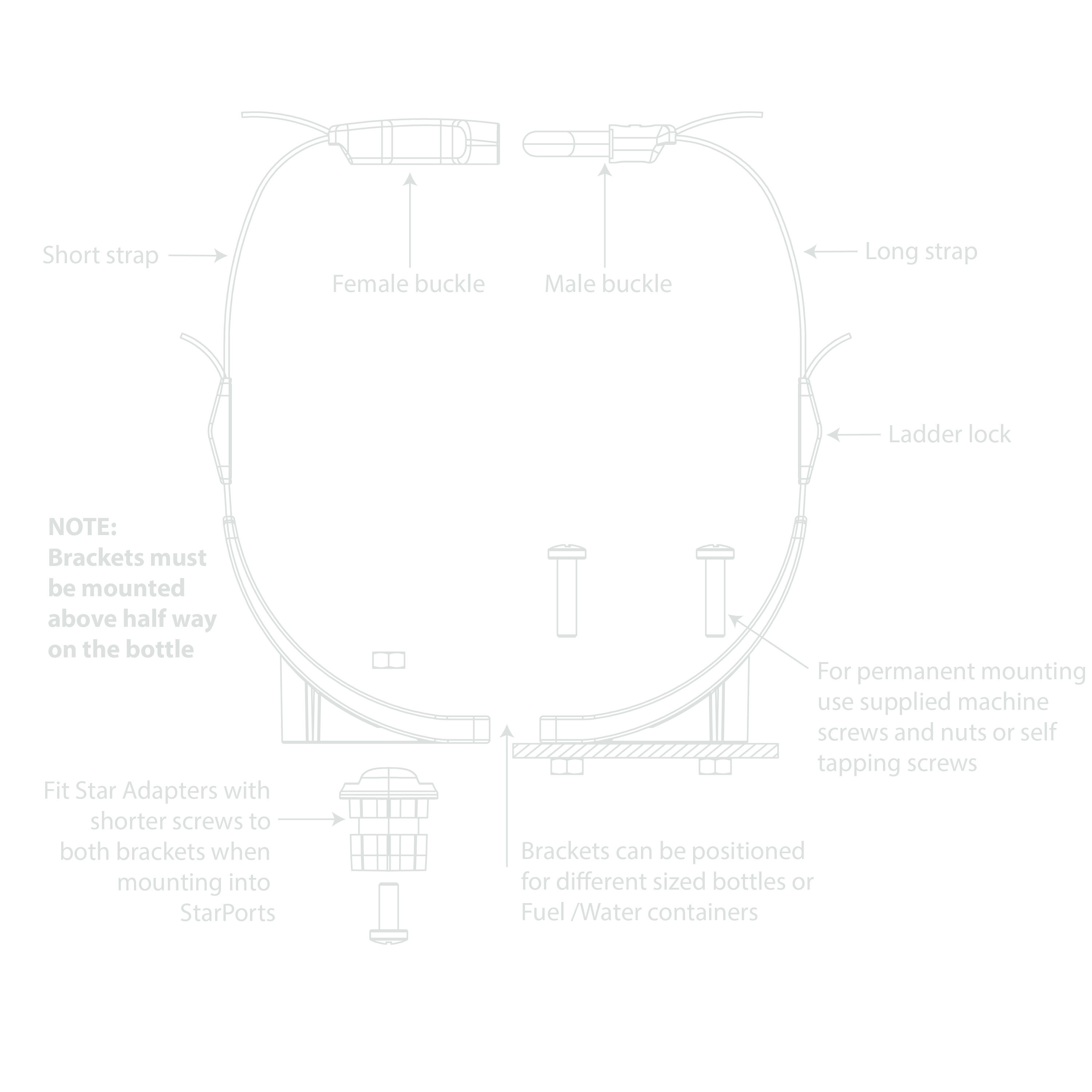 Dive And Gas Bottle Holder
Product Specifications
The RAILBLAZA Dive & Gas Bottle Holder is a strong and versatile solution for holding many size bottles and cans. From LPG & propane bottles to scuba dive tanks and gas and water cans, the Dive & Gas Bottle Holder will safely secure them all in place.
Permanent mount, or removable! It can be permanently mounted using fastenings supplied or made removable using our StarPort mounting system. You can even mount it to the rails on your sailboat. During the install you position the brackets at the required spacing to suit the size of bottle or container you are wanting it to hold.
Designed and made in New Zealand from materials suitable to the harsh marine environment, this fully adjustable bottle holder will help you tidy up your cockpit, keep your scuba gear safely out of the way, and is installed in minutes. It features a plastic buckle for quick and easy operation, and a fully adjustable strap for different bottle diameters, also supplied with all the necessary stainless steel fasteners.

Features:
Securely holds all types of bottles and cans
Rail or StarPort mounting options
Adjustable bracket spacing
Marine-grade materials
Parts Included:
2 x Brackets
2 x Straps
2 x Ladder locks
1 x Side release buckle
2 x Star adapters for use when mounting into StarPorts
2 x Screw packs to allow permanent mounting
Weight
310gm
Material Composition
UV-Stabilised Fibreglass Reinforced Plastic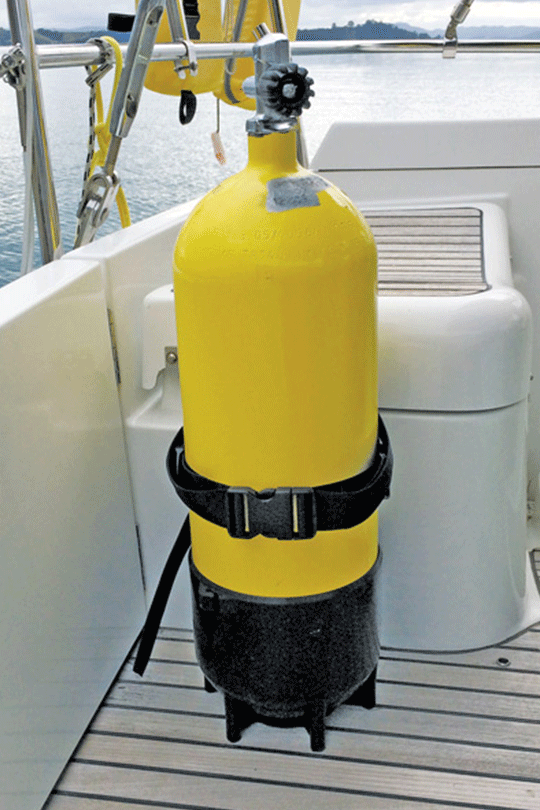 Dive And Gas Bottle Holder Overview
KEEP YOUR VESSEL ORGANISED - The RAILBLAZA Dive & Gas Bottle Holder is a versatile, strong solution for keeping all sorts of bottles and cans safe and secure while out on the water. Whether you're a boater, sailing enthusiast, or adventurer, this holder has got you covered.
HARDWARE FOR EASY INSTALLATION - The Dive & Gas Bottle Holder comes with fastenings that make it easy to install on your vessel. You can also use the StarPort mounting system to make it removable.
ADJUSTABLE BRACKET SPACING - During installation, you can adjust the bracket spacing to fit whatever size bottle or container you are wanting to store. This makes the RAILBLAZA Dive & Gas Bottle Holder perfect for a variety of applications.
CRAFTED WITH CARE IN NEW ZEALAND - Manufactured using materials that are perfect for withstanding marine environments, this holder is made with care in New Zealand.

Review(s)
| | | |
| --- | --- | --- |
| 5 star | | 0% |
| 4 star | | 0% |
| 3 star | | 0% |
| 2 star | | 0% |
| 1 star | | 0% |
Sorry, no reviews match your current selections