C-Tug R with SandTrakz Wheels
With the C-Tug R SandTrakz, you can load and unload your vessel with ease and spend more time enjoying the water. No tools required – it's...
With the C-Tug R SandTrakz, you can load and unload your vessel with ease and spend more time enjoying the water. No tools required – it's a cinch to adjust and dismantle this everyday helper that fits a wide range of hulls in seconds.
Find A Store

C-Tug R with SandTrakz Wheels
Product Specifications
Transport your kayak your way with the new RAILBLAZA C-Tug R SandTrakz, an evolutionary step for the popular and successful C-Tug Cart. The C-Tug R is compatible with all vessels the original cart suited and more. Now fitting a wider selection of other hull profiles like the Hobie Pro Angler, Hobie Outback and more.
Building on the bestselling features of the C-Tug range, the C-Tug R SandTrakz features hull rails that allow you to adjust your cart to the perfect position on your kayak hull.
SandTrakz puncture free wheels mimic bulldozer and military tank tracks. The outer rim compresses when in use giving a longer track length. On soft sand, this reduces how hard you have to pull to move your cart by more than half compared to standard puncture free Kiwi Wheels.
The C-Tug R SandTrakz assembles and dismantles in seconds (no tools required) and stows easily in your canoe or kayak hatch and allows you to leave your gear onboard the kayak while loading on and off the cart without damage to scupper holes, or the need for an extra pair of hands.
Please note: Not all pontoon & cathedral style hulls are compatible with the C-Tug R rails. For example, Native Watercraft Slayer models, Old Town Sportsman PDL 106 & 120 are not compatible. Please check the compatibility guide HERE or refer to the C-Tug R dimensions drawing.

Features:
Fits inside most kayak hatches
Lightweight and easy to handle
Puncture-free, high grip, rubber tread wheels
Non-slip rubber hull pads
80kgs static loading
Made of non-corrosive UV stablised engineering grade polymers, and stainless steel reinforced axles.
Parts Included:
2 x Crossbeams
2 x C-TUG Rails
2 x C-TUG Rail Bases
2 x SandTrakz Wheels
1 x KickstandStrap Kit:1 x 1.2 m Webbing
2 x Ladder Lock1 x 1.6 m Webbing (with sewn on metal buckle)
Hardware:4 x Green D-Washer4 x Hex Bolts4 x Hex Nuts
Weight
4600gm
Material Composition
UV-Stabilised ABS, Acetal and Nylon plastic UV-Stabilised Santoprene elastomer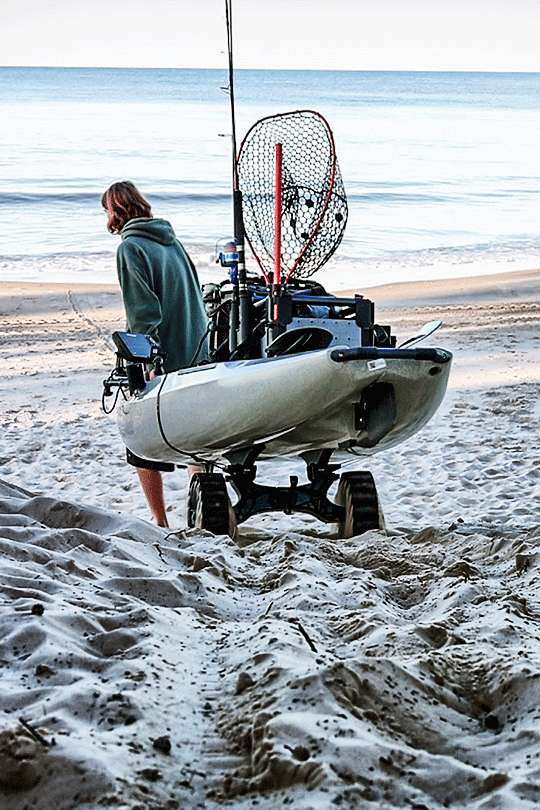 C-Tug R with SandTrakz Wheels Overview
SIMPLIFY LOADING UP - No more wrestling with your gear on your next trip out to the lake. The RAILBLAZA C-Tug R SandTrakz makes loading up a breeze, fitting a wide range of hull profiles and taking seconds to assemble/dismantle.
GET A PERFECT FIT - Designed to work with canoes, kayaks, or Hobie Pro Angler or Outback fishing kayaks. Plus, the integrated hull pads let you adjust the cart easily to fit your needs.
EASY TO USE - Leave items onboard while loading up and off your vessel without damaging the scupper holes. The C-Tug R is also equipped with a strap system so you can transport heavier loads with ease.
BUILT TO LAST - manufactured from durable HDPE and stainless steel, this cart is designed for everyday use. It's perfect for anyone who wants an effortless way to move their boats around.