As told by Yak Gear Brand Ambassador Derick Burgos from Phatfish Kayak Charters.
I was recently given the chance to demo the new Railblaza StarPort HD mounting base before the product release.   As a Yak Gear Brand Ambassador, I am no stranger to the extensive line of Railblaza products, however, when I heard that this base was a rectangular, four-point installation base to be used as a replacement for other "stock bases" that kayaks now come equipped with, I became really interested!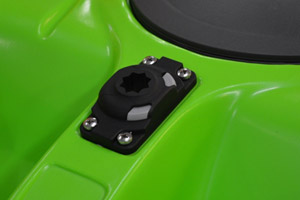 A New Base in the Railblaza Line
We all know the main Railblaza bases (StarPort, SidePort, RibPort and RailMounts) that were first released domestically in 2010.  Since then, Railblaza has become the foundation of many creative kayak anglers rigging styles around the globe.  However, kayak anglers looking to customize their kayak with Railblaza have run into one problem: stock bases!  Kayaks – especially angler versions of kayak models – now come with pre-existing, stock bases in the prime mounting positions.  Well, if I don't want to use an accessory that is compatible with this pre-existing, stock base, what do I do?
With the invention of the Railblaza StarPort HD – a rectangular, four-point installation base similar in size to that of Scotty, RAM, Cannon, Fish-On, and many others – kayak anglers can now easily remove and replace their old bases with a Railblaza StarPort HD!  Not only does this transition to a Railblaza base give you the comfort of the Railblaza 'slide locking mechanism' fit to all of the bases and the versatility to effortlessly retask accessories from one base to another, but the transition also opens up your accessibility to Railblaza's large selection of accessories and limitless rigging possibilities!  Now we're in business!!
First Impressions
The first thing everyone notices on a product is the packaging.  Right away I noticed that the new packaging by Railblaza (which is present now on all products, not only limited to the new StarPort HD) was very well designed.  Clear instructions, awesome lifestyle pictures, and the ability to touch and feel the product without taking it out of the packaging.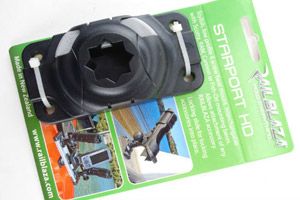 The packaging and instructions were very impressive and definitely an upgrade from their original packaging that the Railblaza bases used to come in when they were first trickling their way into the USA circa 2010.
Second, I couldn't help but notice how low profile the base was.  From top to bottom, the base only measures less than 1" at it's tallest point as opposed to the 1.5" height of the original Railblaza StarPort.  For comparison, the Scotty 241 Deck Mount sits 2" off of the deck.
Installing the Railblaza StarPort HD on my FeelFree UniBar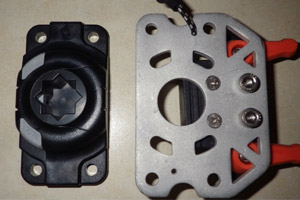 I didn't have any Scotty, Ram, or Cannon mounts to remove on my FeelFree Kayak so I did not use the base as a replacement base.  However, I did decide to install mine on my FeelFree UniBar for a quick access point for my Railblaza Rod Holder II.
Installation was very easy and literally took minutes using just a simple screw, nut, and screwdriver at the four points of the rectangular base.
My Thoughts on the Railblaza StarPort HD
Once installed, I slapped the very rigid and secure Railblaza Rod Holder II into the base.  Low profile and works like a charm!  In my opinion, the best feature that all Railblaza bases come with is the slide-locking mechanism – making it very easy to switch from rod holder to camera mount (or from any accessory to any accessory) in seconds.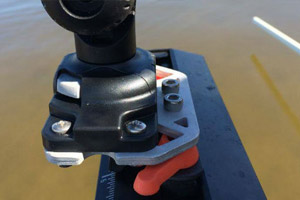 Wrapping it up, the Railblaza StarPort HD is a winner! If you are looking to upgrade from your existing mounting system and are worried about leaving extra holes in your kayak, the HD is your solution. It's got the same screw pattern and the same size as the pre-existing stock kayak bases with the improved strength, security and number of accessories in the product line that Railblaza is known for.
You can find out more about Derick Burgos and follow his adventures at his website PHATFISH Kayak Charters