The New Zealand Based Company Reflects on a Decade of Innovation, Growth and Sustainable Business Philosophies
AUCKLAND, NEW ZEALAND (March 4, 2020) – RAILBLAZA Ltd. has reached an exciting milestone as the organization recognizes ten years of designing and producing accessories for the marine industry. With a versatile product line, RAILBLAZA allows the opportunity to spend less time setting up and more time enjoying the outdoors.
To celebrate they're giving away exclusive limited edition green rod holders.
While working on his property, founder Ross Pratt struggled to find a reliable solution for securing things onto the back of his ATV. Born out of necessity, Pratt developed a system that he quickly realized would provide the answer to a multitude of problems, not only on land but also on the water. After kicking around various monikers at the dinner table, Pratt's wife Julie coined the name RAILBLAZA.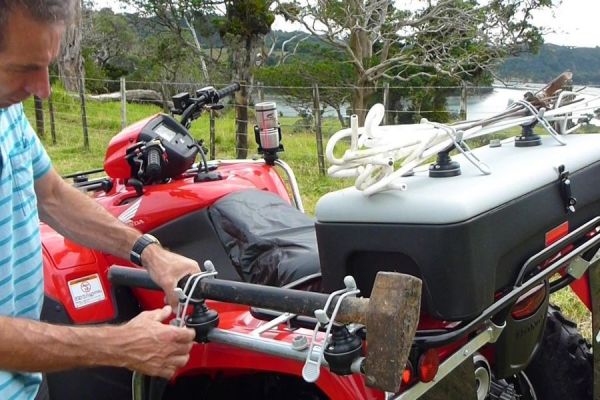 For Pratt, the LEAN manufacturing method had already been a proven approach, and one he had used at BEP Marine, a company Pratt helped his father start in the 1980s. Knowing he couldn't do it alone, Pratt reached out to a former colleague, Mike Edgington, to run the operations. Although the company was small, their dedication to quality and efficiency ensured a solid foundation from the jump-off, allowing the first order to dispatch in March 2010. Ten years later, Edgington is still part of the leadership unit and is a member of a team that is dedicated entirely to ensuring the implementation of optimal production practices.
Which RAILBLAZA Mounting Base Is Right For You?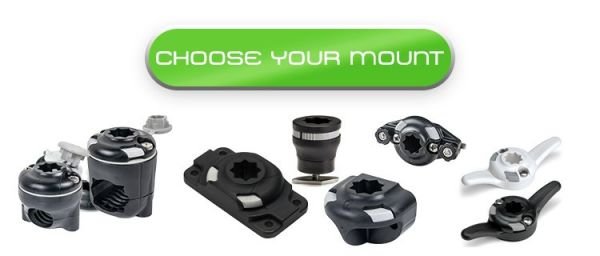 Always looking to further enhance production methods, in 2016, Pratt acquired Napier Tool and Die, an injection molding company located in Napier, New Zealand. The vertical integration has allowed RAILBLAZA to carefully control its supply chain, keep rising costs at bay, and establish an in-house recycling program. On the front line of sustainability is Pratt's son, Chris, who is diligent in ensuring the company upholds its dedication to creating products with a low environmental footprint. RAILBLAZA adheres to strict quality standards by utilizing only top-grade engineering plastics for longevity, and minimal packaging made only of recyclable materials. This approach results in one of the lowest rates of warranty claims in the industry. 
"Every year we use hundreds of thousands of cable ties, and the offcuts were waste, going to landfill. With a bit of thought, we set up a system to turn them into knobs for rod holders and more."  Watch the video below to see a sample of this process
As RAILBLAZA started shipping in 2010, their products were quickly picked up by kayak anglers, and this was a very high growth category for the first five years. Their expansion in boating products has been steady over the past ten years, and has gained momentum in the past five, to overtake paddle sports as a category . "We want to continue to strengthen our partnerships with manufacturers and distribution channels in the boating business.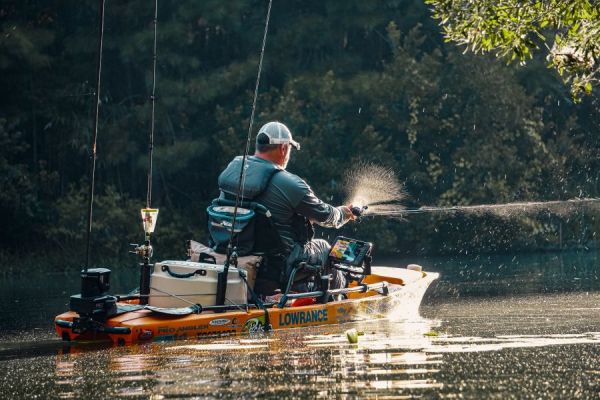 With such a small space to work with Kayak anglers found the modular system changed the way they do things on the water, transforming their kayaks into practical workspaces
By listening to and working side by side with our customers, we can develop new products that their customers get excited about; we have a bright future ahead of us," stated Edgington. In the coming decade, RAILBLAZA intends to continue its focus on sustainability efforts through manufacturing. "I consider us to be ahead of our peers when it comes to decreasing environmental footprint. It is imperative that boating and fishing businesses concentrate on protecting the ecosystems that support our industry, because without it we couldn't exist," says Pratt.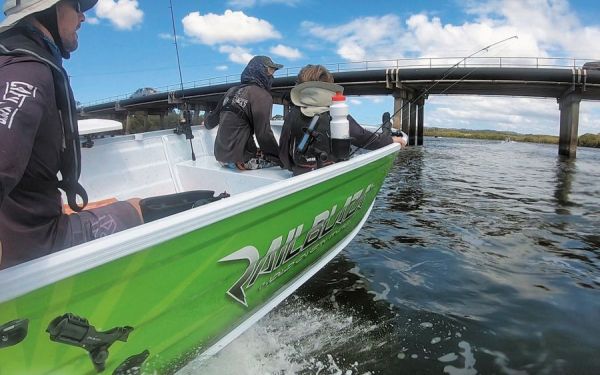 Over the years, RAILBLAZA has meticulously devised a formula based on product quality and ethical business practices while simultaneously focusing on sustainability and philanthropy. For Pratt, supporting the community is a priority. Monthly donations made to Yachting New Zealand, local sailing clubs, and community houses, allow the organization to contribute to sporting and outdoor activities for youth, as well as help vulnerable families in need.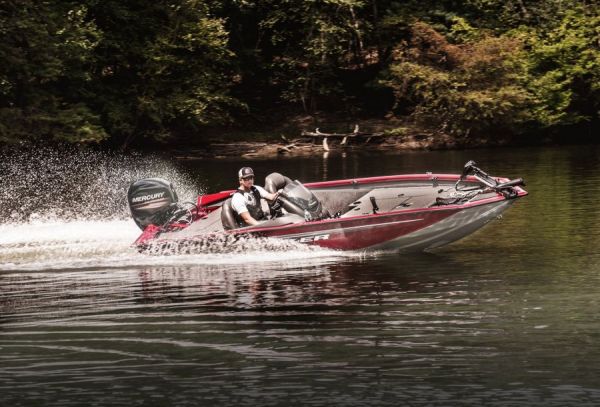 "I believe a successful business must support not only its team members but also the wider community and the environment. Before we opened the doors, I set myself a goal of giving a percentage back to the community, and always keeping sustainability at the forefront of everything we do. I expect this of brands I use, and rightfully, our public expects this of us." says Pratt.
About RAILBLAZA
Established in 2010, RAILBLAZA manufactures a versatile line of products and mounting systems made to accommodate a diverse range of applications, whether on land or water. Based in Auckland, New Zealand, with an office in Houston, Texas and representation in Europe, RAILBLAZA exports to over 50 countries.
OTHER INFO