Looking for ideas to rig your next fishing kayak? Finland based Pro Team member Jouni Makimattila shares with us how he has rigged his Wilderness Radar 135.
Previously I have owned Hobie Pro Angler, Feel free Dorado and I have tested a wide amount of different manufacturers, but the Wilderness Systems Radar 135, in my opinion, is one of the best fishing available and really suits my needs.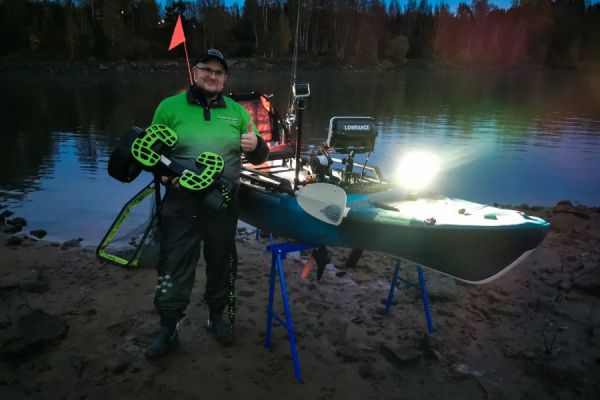 Well-built kayak with great stability, it goes through the chop and waves without any hesitations, it is light, really easy to pedal for a full fishing day and it has good speed for covering distance and moving in the wind at currents. BUT….. I had to make it even better…
And the perfect, easy way is to enhance it with RAILBLAZA Accessory.
Safety first – how to be visible
First of all, I was concerned about night time fishing which is my personal favourite time and style. So I decided to add RAILBLAZA I360 with Extenda Pole 1000. First I tried it without Extenda Pole and after that, I decided to try different lengths with it. The best solution was the first section of the pole, which is 380mm / 38cm (15") high.  After a few tries with MiniPort TracMount, it found a place almost in the middle between the rudder and my back.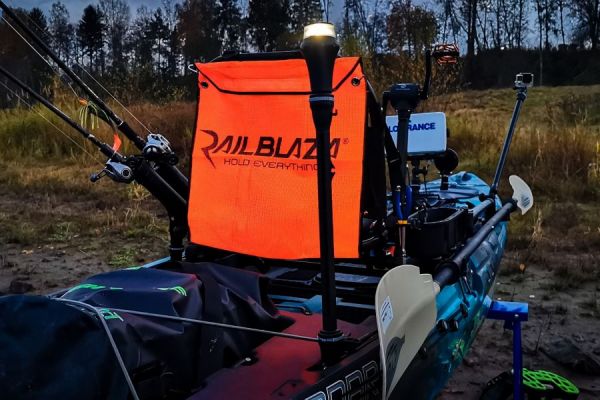 Right after this, the FlagWhip found its place at the very back. I removed one screw which was holding a " plate" and Miniport TracMount (Tracnut removed) screwed right into this spot.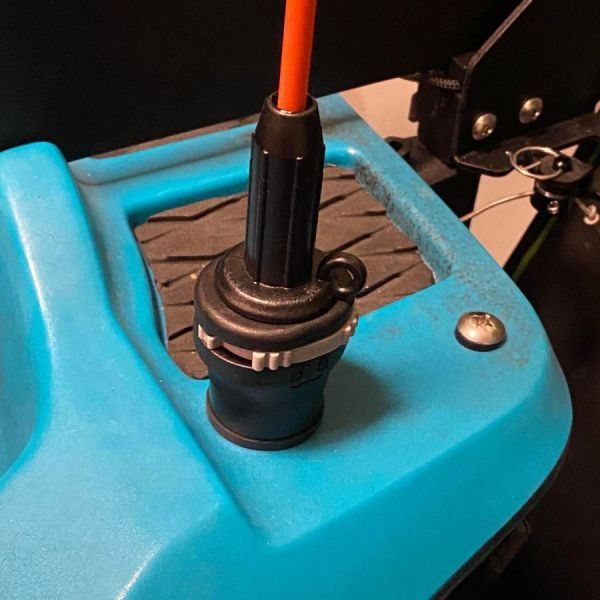 Rod holders for storage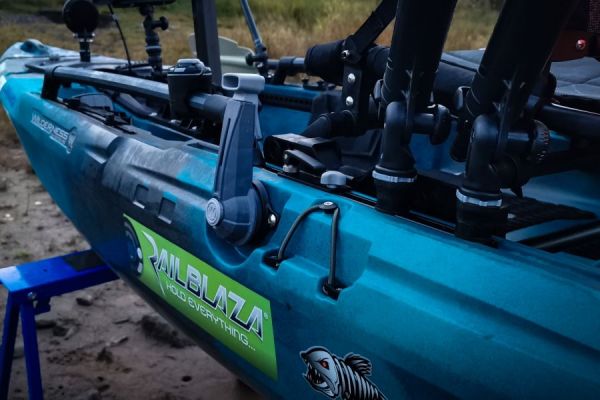 After that, I wanted to add my RAILBLAZA RodTube's. 2x RodTubes next to the seat on the left side of me. With MiniPort TracMounts, this was super easy since the kayak has really good and long tracks you don't have to do single hole on the kayak. With only these the Wilderness system radar 135 started to look like a fishing battleship.
Where to put the paddle?
Now for the paddle. The Radar 135 has one place for it and I didn't like that. I wanted it to be easy to take from the place and easy to put it back. Also, it cant be in the way of fishing. So, I tested many places again, again and again, and after some frustration, due to it always being in the way I got an idea which was super easy!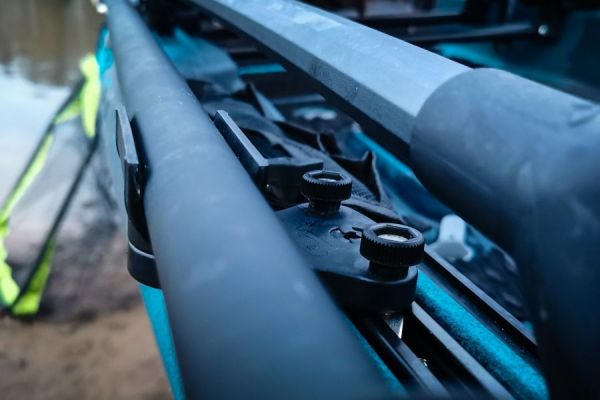 2x QuickGrip Paddle Clip Track Mounts in the tracks at the left side of the kayak and it was done. Done in 2 minutes and it is perfectly there. I can take it easy and put it back and it is no longer in my way.
Tackle and other storage
StowPod Storage Caddy and Drink Hold found their places right away also. With MiniPort TracMounts on the left side of the seat. Fantastic and looks really, really great. There is so much fun to have with Miniport TracMounts with this Kayak.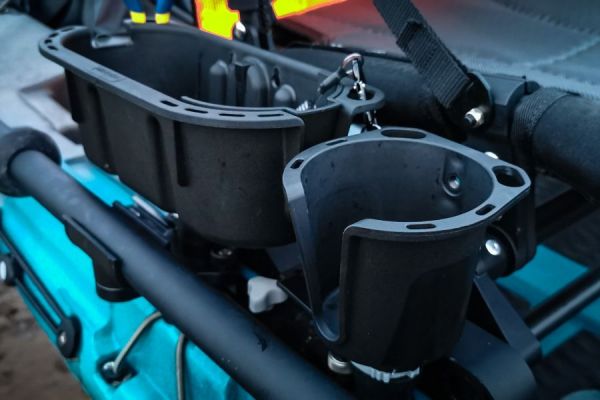 Camera options
One thing, the proof you've caught a big fish! That can be done easily with GoPro or any other action camera, with Camera Boom 600 R-Lock. There are many possibilities for places to add this with any mount that Railblaza can offer. My personal favourite is still Railblaza QuikPort on the Belly Boat, but for this kayak, I just added StarPort with StarPort TracMount Kit. Could have also used MiniPort Tracmount or TracLoader StarPort.
How to add H-Rail to the Wilderness Radar 135
By far the only thing I did not like in this kayak is that it was missing Rails like the Hobie H-rail. For me, it is a small question about safety. If you flip over, rails are great to have for holding when righting the kayak, floating with it to the bank or getting back on. Obviously, the H-Rail is also a great way to add accessories without drilling into your kayak. So easy and versatile. That's what RAILBLAZA Accessory is for. Versatile, Resistant, Easy and gives great value for money.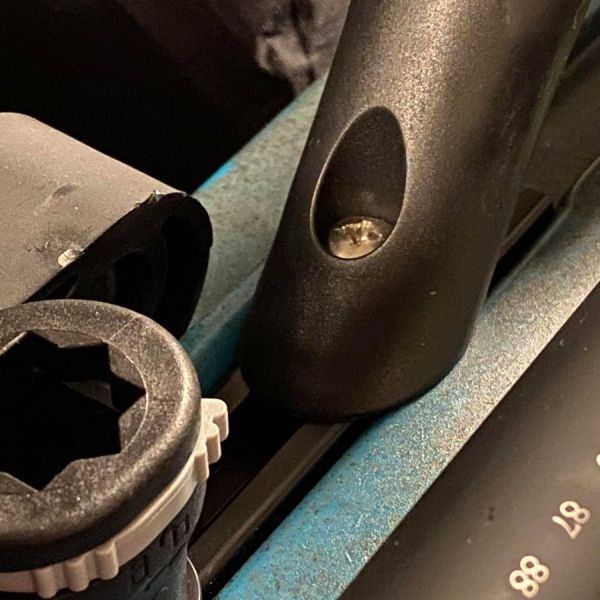 I had an idea to add rails to the kayak but I didn't want to drill any holes in the kayak, the easy solution was to use the RAILBLAZA StarPort TracNut Kit and attach the H-Rail into my Wilderness track, simple and no holes. Now Radar 135 has rails. Safety is better and it looks even better.  Added 2x RailMount 32-41 which has the H-Rail insert where I can attach rod holders or my Mobi Universal device Holder.
Last bit of DIY fitting for lights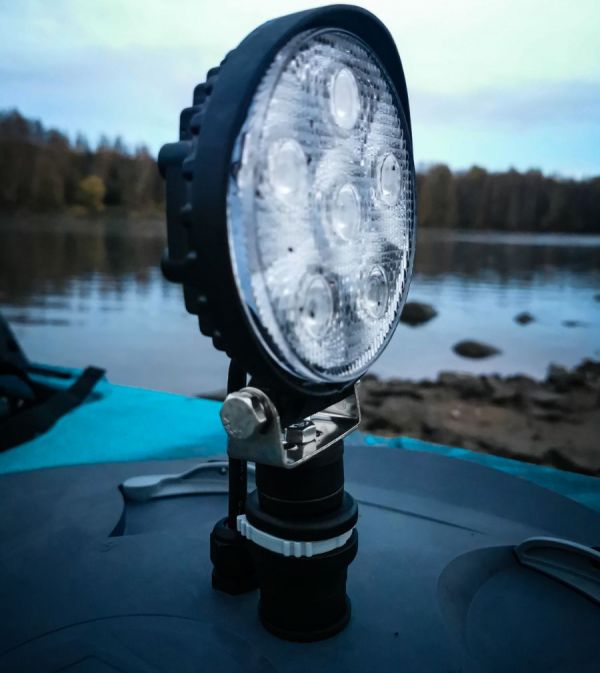 For the last DIY project was adding lights in front and back of the seat…just because I came up with the idea from Facebook while ago and wanted to make it work on the radar 135. I have a couple of headlights with me always, but this was just too fun to do. these lights are also remotely controlled.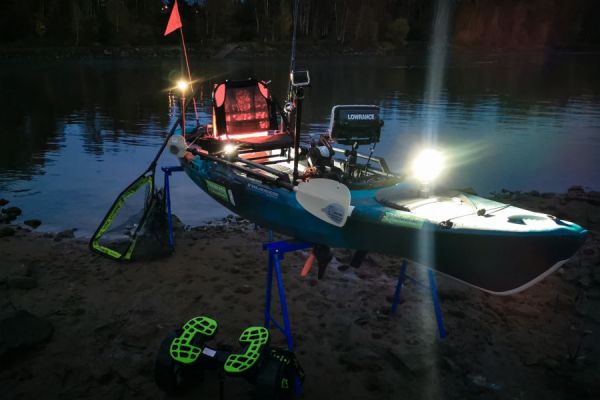 Rigging up boats, kayaks and float tubes is what I like to do and I help a lot of people with them, not only in Finland but in many other countries too. Feel free to contact me always you have something to ask. If I don't know, I will find out it for you.
Links for my social accounts here on my Pro team Bio – click the image below to see