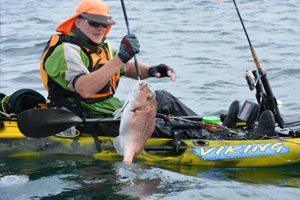 Ross Giles kayak fishing in Northland NZ 
RAILBLAZA customer, Ross Giles of Northland NZ, recently shared these some of the customization's he has made to his kayaks using RAILBLAZA mounts and accessories (the kayaks are Viking Kayaks NZ Profish 400 & Profish Reload). kayak fishing for Ross is generally offshore in the Northland waters, home to some spectacular fishing ideal for kayak anglers targeting big fish,  in this environment having everything in its place and right where he needs it is a huge priority.
Combine the adaptable RAILBLAZA system with a great fishing platform like the Viking Profish range and put them in the hands of someone like Ross, with his years of kayak fishing experience, the possibilities to truly customizing your fishing platform are endless! Read on to see what Ross has done to customize his kayaks.
G-Holds for Rod storage –
With a pair of StarPorts mounted to the lid of the Profish 400 Ross can fit a pair of G-Hold 50mm giving him the ability to secure rods for surf launches and for transporting.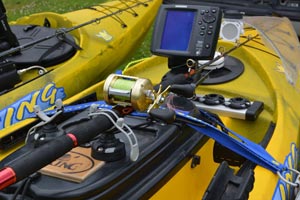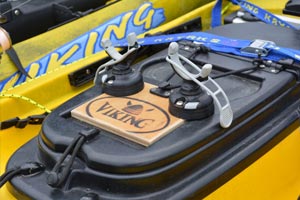 RailMount Rod Holder II  -
The Profish Reload has 28mm tube side carry handles, Ross has mounted a RailMount 19-25  to the Right side handle, this is used for a Rod Holder II . This functions well when Ross is using his sounder to locate fish, then sets a bait (a whole pilchard for example ), with the rod parked in the rod holder positioned so the tip is in the ideal position for deploying the bait (for a more natural presentation). Ross can then paddle to stay in place ensuring the bait is delivered to the target (if you drift off the mark the smaller fish around the edges will often pick it up instead). With the locking collar removed from the Rod Holder II  it is very easy to grab the rod and strike when the bait is hit.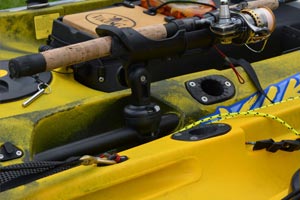 25Watt Marine Radio –
Many of the places Ross fishes are very remote so having good reliable communication is essential. For this reason he has fitted both his kayaks with 25Watt marine radios and used various RAILBLAZA components to enhances the functionality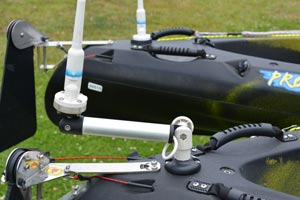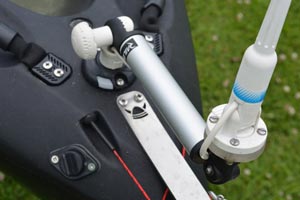 Old Boom 150 mount with slight modifications allows for extra height on the aerial     
As the Profish Reload comes standard with fittings for a StarPort in the stern Ross was able to mount this aerial without drilling any extra holes into the kayak.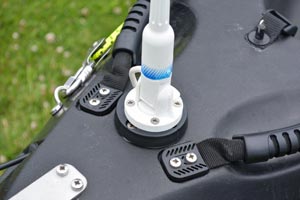 VHF & battery all contained safely and in reach inside the Profish Reload tackle Pod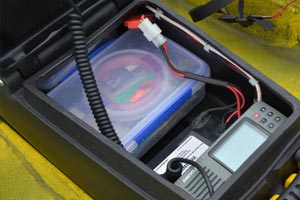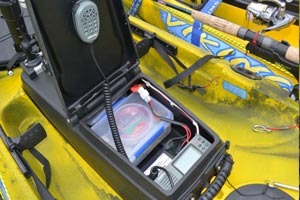 Speaker added to the VHF for greater ability to hear, especially important when paddling or fishing in strong winds. Ross has made use of these extra holes in the plastic cover to allow for an extra StarPort in an ideal position for camera boom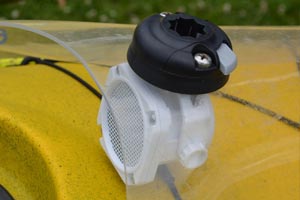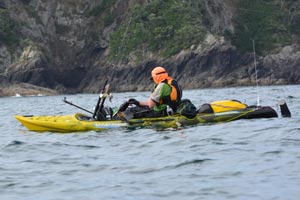 Humminbird Fishfinder GPS antenna –
For the Profish Reload Ross has used an Adjustable Extender and modified it for the GPS antenna. This is mounted to the TracPort 350 which is bolted direct to the Tackle Pod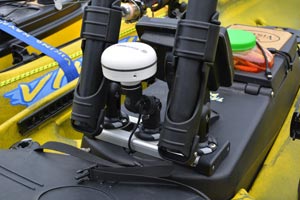 On the Profish 400 Ross has mounted the GPS antenna direct to the Rotating Platform which is fitted to the TracPort 500