Being predominantly a saltwater species angler I have only been mildly curious about impoundment fish and particularly Barramundi. How quickly after a couple of trips that mild curiosity can turn to full-scale obsession in search of the next hook up and even bigger fish and place called Lake Callide has me hooked! 
With a small number of trips to other dams to target Barramundi prior to this, I was inspired find out as much information about these fish as I can to increase my hook up rate and maybe crack the 1m mark.  An invite to meet up with Dean Silvester Lake Callide in Dec was the start of this slippery addictive slope that I am thoroughly enjoying.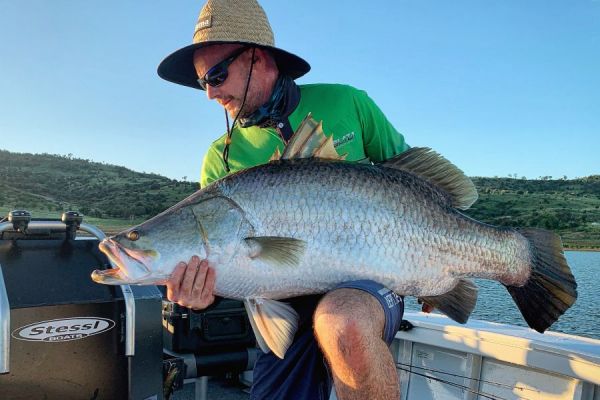 I did catch a few great fish and I did crack that 1m mark after the 2nd visit but I could not have done it without the help of others prepared to share their experience. It's with that in mind I wanted to share what I have learnt on those trips so maybe you too can get the reward of that prize catch that is so sought after.  A big mention to Steve and Blake Hughs who have both been so generous in sharing hours and hours of information gained through their experiences.
About Lake Callide
Lake Callide is located 6.5hrs north of Brisbane seeing you drive past the turnoff to Lake Awoonga and is within 15mins from the town of Biloela. Pack your tackle well as the closest tackle shop is in Gladstone (some well-proven lures are held at Lake Callide Resort front office).
Although lake Callide's primary purpose was originally designed to supply water to the nearby power plant, today it also supplies water to a large range of local agricultural needs. When needed water is pumped in from Lake Awoonga some 50km to the east, for my 2 trips there the water level was no more than 23% capacity and at its deepest in the main basin 54ft (16m). There is a link below in "useful links" from Sunwater website for you to see what the real-time water level is.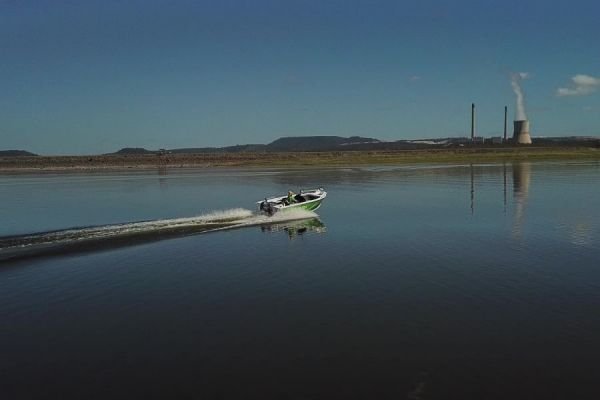 Fish stocking program
The stocking of this fishery is run through Callide Valley Native Fish Stocking Association (CVNFSA) and the species stocked since the club was formed in 1987 include Barramundi, Yellowbelly, Saratoga & Silver Perch. A total of 170,768 barramundi, 320,290 golden perch, 301 saratoga and 1,268 sleepy cod have been stocked in Callide Dam from SIPS permit sales (link for where to buy your SIPS permit below in useful links)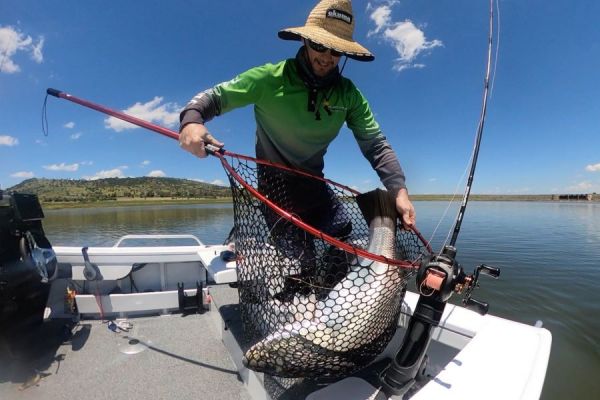 Below are some of the numbers and species that have been stocked since 2014.
| | | |
| --- | --- | --- |
| Year | Yellowbelly | Barramundi |
| 2014 | 28k | 16k |
| 2015 | 28k | 16k |
| 2016 | 22k | 31k |
| 2017 | 73k | 54k |
| 2018 | 27k | 17k |
| 2019 | 32k | 28k |
| 2020 | 20k | 17k |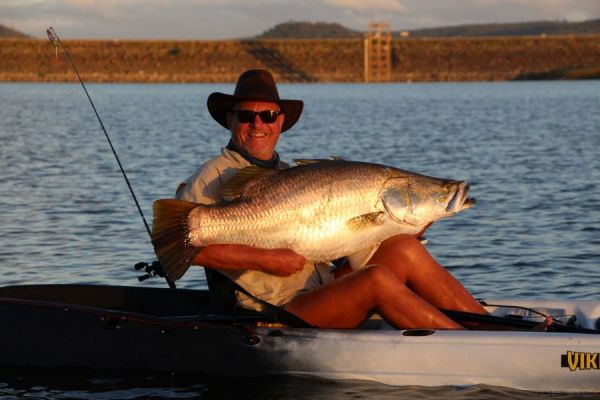 Given it takes roughly 4years for an impoundment Barramundi to reach the magic 1meter, looking at those dates and quantities you can safely assume you will find fish well over the 1m mark right now and we did!. The biggest landed by our crew during the 2 trips was 118cm (lake Callide Retreat Caretaker Steve pictured above with that beauty slow trolling in his Viking Kayak out in the main basin) with 2x 110cm, 115cm and several others between 96-98cm hitting the brag mat. The Lowrance fishfinder certainly reported some big units cruising around.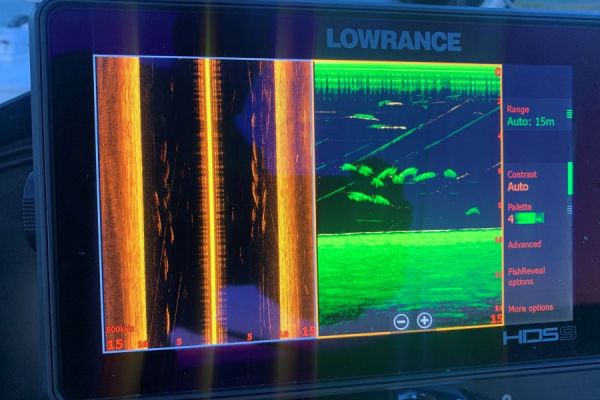 Currently, biggest fish to be landed is 125cm By Jason Elrich and many others have measured in well over 120cm which you can see on the Lake Callide Retreat FaceBook page linked below in useful links. Multiple reports, from very experienced Barramundi anglers, losing bigger fish boat side due to straightened hooks & split rings suggest there is bigger yet to be recorded.
TIP:  Lake Callide Retreat Caretaker, Steve has a very useful tip, back off the drag a little and let them play out as they mostly have no timber to go to in this dam. There are some very heavy fish that will break your heart boat side if you don't play them out a little.

What are they feeding on
I can attest to these fish being heavy, compared to same length fish I have seen landed in lake Monduran, the lake Callide Barra would be 10-15% fatter/heavier. I asked Steve if he felt this had something to do with the large aerator near the dam wall that comes from the power plant which is turned on intermittently, assumably to make the water quality better for the plant…his answer was simply "they are just greedy and will eat everything "!
The food source is predominantly boney bream and banded grunter but given the water is pumped from Awoonga there is no doubt of many other food sources including crocodile long tom that had been stocked in the past by the CVNFSA.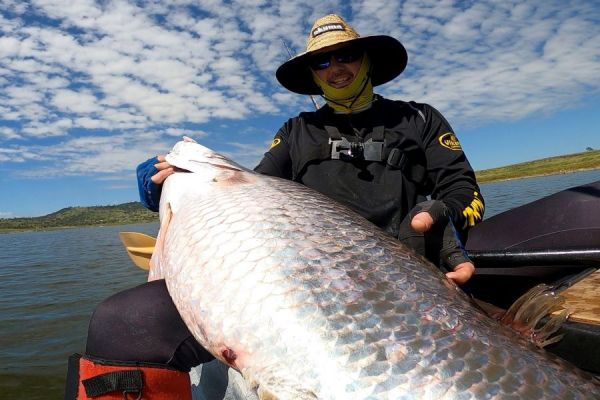 Habitat/structure and size of lake Callide
Lake Callide is a relatively small body of water (at roughly 10-12kms long) compared to many other impoundments like Monduran or Awoonga so finding the fish is relatively easy and they can be found throughout the whole dam.  As mentioned above there is little to no real structure in the main basin and edges other than rocks and weedy bottom. Obviously, a fish finder will help you identify any hidden logs etc. The main basin and edges are where we found the majority of the bait and consequently the Barra willing to take a lure on our trips. Steve's tip of letting them play out a little if you feel you have a big one on is a safe and very useful tip.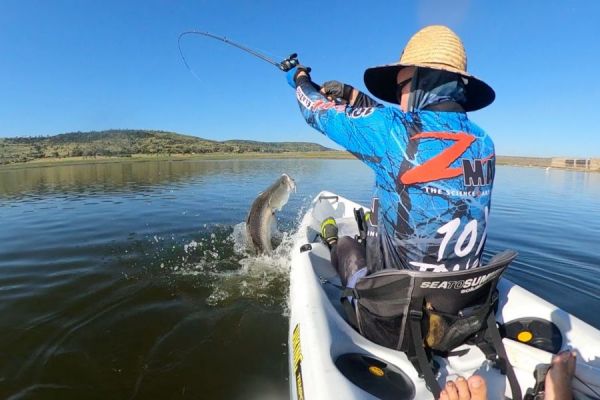 Further, into the dam, there is some light timber and rocky areas where you will need to play things a bit smarter if you venture up that way. Yellowbelly and Saratoga can be found in and around these structure areas along with plenty of red claw so bring the traps with you. Allow some time to map the dam with your sounder (this dam is not on Navionics charts) which won't take long given its size.
ANCHORING TIP: At night the wind can really get up at Lake Callide if you are running an electric motor make sure to bring a fully charged battery and a charger if staying multiple days as it will get a workout holding you in place. If you're not or you're in a kayak bring an anchor or plan to just troll when it's windy, its proper windy I can tell you and it comes on cue as predicted in the weather apps and does not go away till almost sun up.
When is it best to fish Lake Callide?
When your rod is in the water is a good time! After 2 trips myself to build some first hand experience and countless conversations with more knowledgeable anglers its safe to assume, if your prepared to put in the time this dam will produce fish all year round. However there are some simple principles to plan your first trip around if your not sure or are new to impoundment fishing particularly one as small as lake Callide.
Plan your trips around the full moon – leading up to and a couple of days after the full are all good times to fish for Barra at Lake Callide. Fish around the almanac bite times but also spend time fishing the change of light period and pay attention to the surface noise. If you see bait stirring on the surface all around then you know the fish are feeding so keep a hand on that rod ready to set the hook!
My trip in Dec the fish seemed to really come on the bite in the evening when the moon was high but noting that trip the outside temps were between 38- 42 degrees for a week. My trip at the end of Jan the bite time was more active at the early morning change of light period and outside temps were no higher than 36degrees. So, 2 quite different trips, keep an eye on the Lake Callide Retreat Facebook page for regular updates of fish being caught and do message them to ask what has been going on as both Steve & Kerry are more than happy to share the intel of what's happening plus Steve is fishing the dam every chance he gets.
Tackle and techniques that worked for me.
This is a very personal choice so I will just report on what I used as it may help as a start point. 6" paddle tails (Zman Swimmerz with TT Jig Heads) and 4" jerk baits (Bagley Rumble B) very slow trolled or cast and very slow-rolled were what worked for me on my trips and looking at the other fish that were landed while there it's a safe assumption these are at least what you need to pack. 40lb Platypus Bionic Braid to 60lb Platypus Hard Armor leader on the Okuma Citrix and Cerros rod.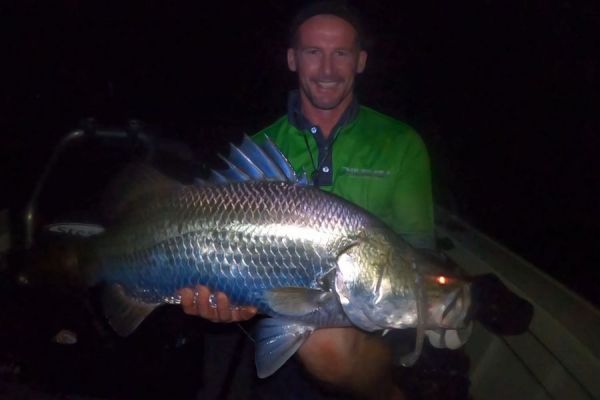 This dam does not appear to be a topwater bite in the main areas where the Barra fed so the main focus should be to find what depth the Barra are sitting at and work your lures in that zone. If you are not running a sounder, then a safe way to work the lures is to slow retrieve them as close to the bottom weed as possible. Our most productive technique in the Jan trip was very slow trolling at first light but as you will see in the video linked below from Dean Silvester, who was also there in Dec – they had it dialled landing multiple fish on the cast and retrieve at night in the shallows.
Accommodation,  access & other things of note
Where to stay – Lake Callide Retreat (LCR) located right on the edge of the dam is my 1st suggestion. They have both powered and non-powered site as well as a select number of cabins. If you're going in summer book a cabin so you can relax in the air conditioning between bite times. I will be taking my family of 5 next trip as it's a great place to chill out and the accommodations is fantastic.  Biloela has accommodation options as a back up if you cant get into the LCR
Lake access – All water craft are welcome without restriction on this dam and it has a couple of easy boat ramp options noting that with the water levels low you will likely end up just launching off the banks near enough to where the ramps are located. If your kayaking then your access points are many and with a 4wd you can launch pretty much anywhere.
Do You need a license to fish – A Stocked Impoundment Permit (SIP) is required to fish. Permits are available from Fisheries Queensland that set out the conditions under which you can fish at Queensland dams.
Food and fuel – Biloela is 15mins away and has all you will need from supermarket, fuel and takeaways
Fishing Guide option – currently there is no advertised fishing guides for lake Callide but there is a very handy resource of info at the front office of Lake Callide Retreat "Steve & Kerry" – awesome people only too willing to help you get onto one of these amazing fish.  
Useful links