"Blaze" your Ocean Kayak Prowler
 In this series of "Blaze your kayak" we have installed a range of our mounts to the Ocean Kayak Prowler 13  & 4.5 fishing kayak. These pictures and below video will show you how you can afford-ably set up your Ocean Kayak prowler to be an even more practical work station for your next kayak fishing trip
RAILBLAZA components used in this fit out
The Mounts 
The Accessories
The Mounts
The Ocean Kayak Prowler offer a great platform for mounting our StarPorts either Surface mounted or recess mounted, as  well as offering areas where the SidePort is ideal to utilize otherwise un-usable space
The Accessories
Once you have chosen and fitted your mounts you can fit any RAILBLAZA accessory to suit the occasion  Here we show a small number of key accessories that are applicable to your kayak fishing experience.
The Rod Holder II is robust, versatile, and value for money, fully adjustable 360° around, over 90° vertical. Rotating collar helps reduce 'strike-theft'. Rear gimble lock reduces rod rotation for compatible rods. Square-tooth adjustable tilt stops rotational slipping.The Rod Holder II is available either as a kit complete with a StarPort, or as a Rod Holder by itself. See here for more Rod Holder II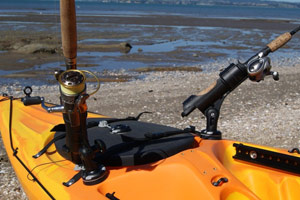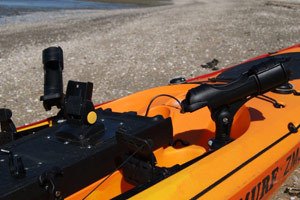 TracPort Dash 500 - The TracPort Dash 500 comes with 4 StarPorts, 2 StarPort adapters, infill extrusion and all fastenings needed to install and trim the rail.  Mount to any StarPort or SidePort pair to create a compact and versatile work station. Put your own RAILBLAZA accessories together in a convenient, lightweight system… Then remove the system when you're finished for security, transport or storage! find out more here TracPort Dash 500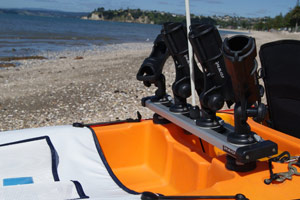 Mobi universal mobile device holder –   A unique solution for holding your handheld GPS close at hand, fully adjustable and comes with a retaining strap to secure your device when required… Note this image is of the old Mobi, check out the the latest model here
Rotating Platform - For simplicity of mounting, you can't go past the RAILBLAZA Rotating Platforms. Available in two sizes, they are the ideal mount if you need the ability to easily remove your sounder for clean down or clearing the deck in surf environments. Once locked into a StarPort the platform can be turned a full 360 degrees. Find out more here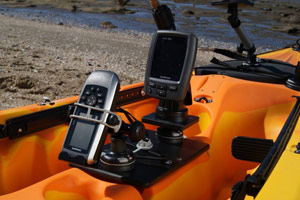 Platform Boom 150 & Camera boom 600.. Whether you are hauling in a record breaking marlin or about to take line honors you can capture the moment from the perfect angle using a RAILBLAZA Camera Booms. the Boom 150 is ideal for close up shots and for wide angle lense cameras like the GoPro, Contour etc.. where the Boom 600 is great when you need to position the camera further away..ideal for all compact sports cameras.